RECIPE
SNICKERS PEANUT BUTTER REINDEER BLONDIES.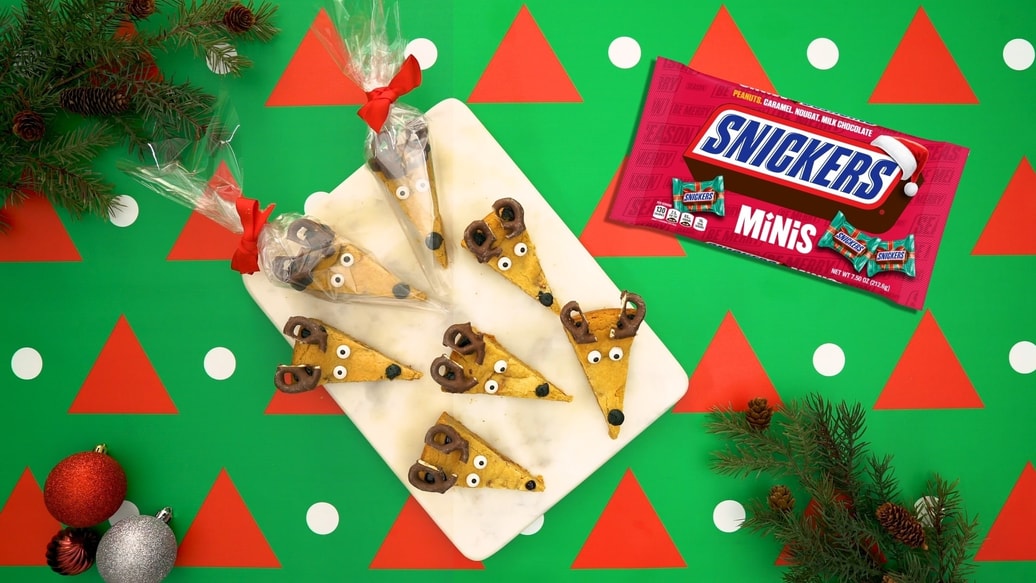 Prepared in a round pan, these SNICKERS blondies are cut into wedges, then simply decorated for an impressive fun holiday reindeer treat.
INGREDIENTS
3/4 cup all-purpose flour
1 tsp baking powder
1/4 tsp salt
1/3 cup butter
1 cup brown sugar
1 egg
2 tsp vanilla extract
10 SNICKERS Minis, chopped
3 tbsp chopped peanuts
1 tube brown or black gel icing
INSTRUCTIONS.
1

Preheat oven to 350°F. Grease 8-inch round baking pan. Line bottom with parchment paper; set aside. Whisk together flour, baking powder and salt; set aside.

2

Melt butter and peanut butter in saucepan set over medium heat. While still hot, stir in brown sugar; remove from heat. Transfer to large bowl; let cool slightly.

3

Beat in egg and vanilla until incorporated. Stir in flour mixture until just combined. Fold in chopped SNICKERS and peanuts. Scrape batter into prepared pan, smoothing top.

4

Bake on middle rack for 20 to 25 minutes or until tester inserted in center comes out with just a few moist crumbs clinging to it. Let cool completely on rack. Carefully remove from pan; cut into 16 wedges.

5

Pipe dots on tip of each blondie with icing to resemble reindeer's nose. Using icing as glue, add pretzel antlers and candy eyes. Decorate between antlers with candy sprinkles.

Tip 1

Wrap these treats individually in festive holiday cellophane for easy gift-giving.

Tip 2

For speedy preparation, use a store-bought blondie mix.