RECIPE
SNICKERS EASTER EGG BLONDIES.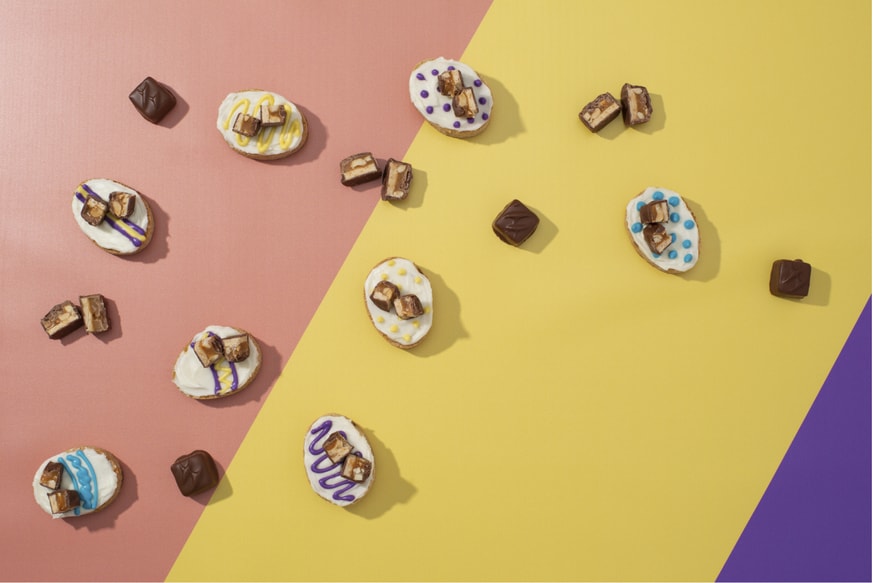 Studded with SNICKERS, these rich blondies are cut into classic Easter egg shapes and decorated with candy melts for a fun and festive treat.
INGREDIENTS
1 cup all-purpose flour
1 tsp baking powder
1/2 tsp salt
1/2 cup unsalted butter
1 cup brown sugar
1 egg
2 tsp vanilla extract
12 SNICKERS Minis, chopped and divided
1/2 cup prepared vanilla frosting
1 oz pastel purple candy melts, melted
1 oz pastel yellow candy melts, melted
1 oz pastel blue candy melts, melted
INSTRUCTIONS.
1

Preheat oven to 350°F. Line greased 9-inch square baking pan with enough parchment paper to overhang edges. Whisk together flour, baking powder and salt; set aside.

2

Melt butter in saucepan set over medium heat; stir in brown sugar. Remove from heat. Transfer to large bowl and let cool completely.

3

Whisk in egg and vanilla. Stir in flour mixture until just combined. Fold in half of the chopped SNICKERS Minis. Scrape batter into prepared baking pan; smooth top.

4

Bake on middle rack of oven for 20 to 25 minutes or until only a few moist crumbs adhere to toothpick inserted in center; let cool completely on rack.

5

Remove from pan and remove parchment paper. Spread frosting over top. Using 2-inch egg-shaped cookie cutters, cut out 12 blondie eggs (reserve remaining blondies for another use).

6

Decorate eggs with melted candy melts. Sprinkle with remaining chopped SNICKERS Minis.

Tip

Alternatively, decorate with Easter sprinkles or pastel icing tubes instead of candy melts.