RECIPE
SNICKERS CHEESECAKE CUPS.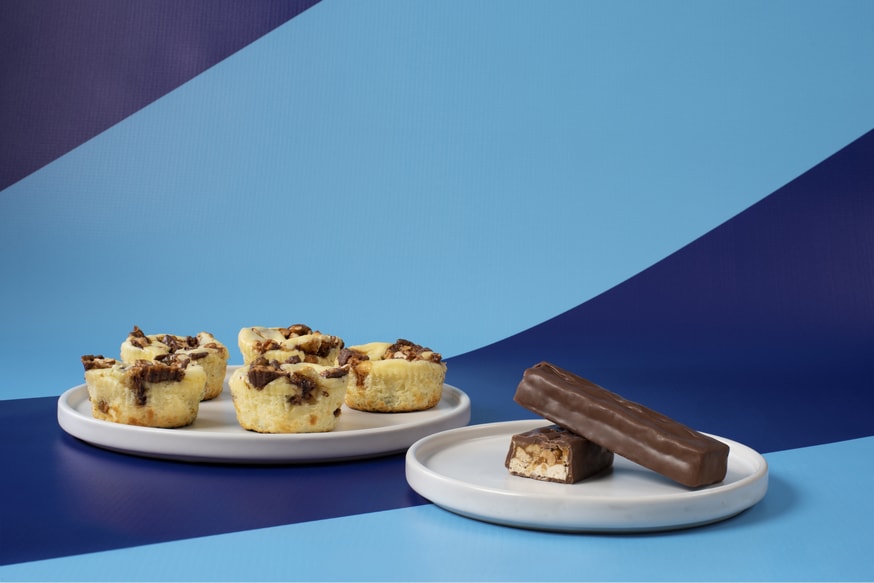 Chopped SNICKERS are folded into classic cheesecake batter and baked for an indulgent treat that everyone will get excited about.
INGREDIENTS
12 round chocolate wafer cookies
12 oz brick-style cream cheese, at room temperature
1/3 cup granulated sugar
Pinch salt
1 egg
1 egg yolk
3 tbsp sour cream
1/2 tsp vanilla extract
2 regular (1.86 oz each) SNICKERS Original, chopped
INSTRUCTIONS.
1

Preheat oven to 325°F. Line 12 standard muffin cups with paper liners; place 1 cookie in bottom of each muffin cup. Set aside.

2

Using electric mixer, beat cream cheese, sugar and salt until smooth and fluffy. Beat in egg and egg yolk until blended; beat in sour cream and vanilla. Fold in half of the chopped SNICKERS. Spoon evenly over each cookie.

3

Bake for 20 to 25 minutes or until just set. Sprinkle tops with remaining chopped SNICKERS. Let cool on rack for 30 minutes. Refrigerate for at least 4 hours or until thoroughly chilled.

Tip

Alternatively, substitute vanilla wafer cookies for chocolate wafer cookies.