RECIPE
SNICKERS CREPE CAKE.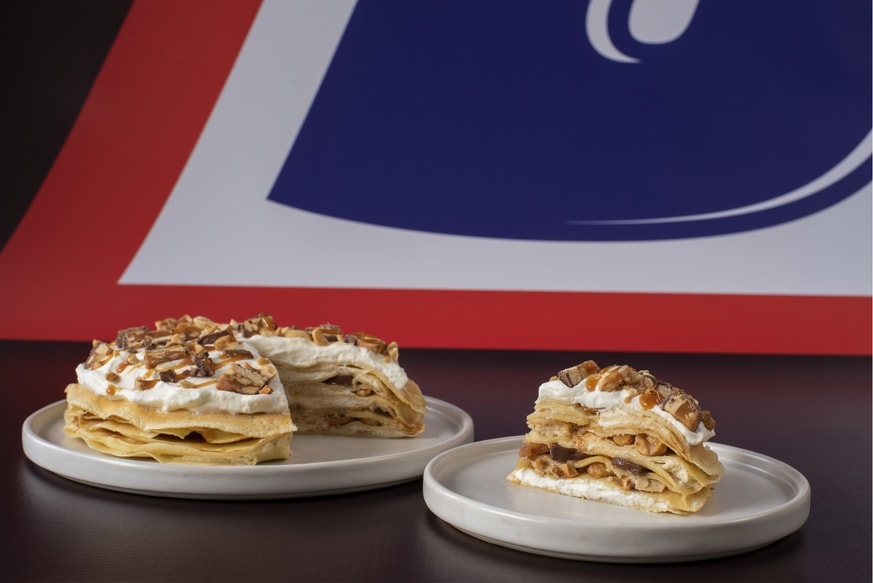 Layered with caramel, peanuts and whipped cream frosting, this show-stopping SNICKERS crepe cake will delight young and old alike.
INGREDIENTS
1 cup 2% milk, at room temperature
3/4 cup all-purpose flour, sifted
2 tbsp butter, melted
2 eggs, at room temperature
1/4 tsp salt
1 tbsp canola oil
4 oz brick-style plain cream cheese, at room temperature and divided
2 tbsp smooth peanut butter
2 tbsp icing sugar
1 tsp vanilla extract
1/2 cup 35% heavy cream
1/2 cup chopped toasted peanuts
1/2 cup dulce de leche
2 regular (1.86 oz each) SNICKERS Original, chopped
INSTRUCTIONS.
1

Crepes: In blender, mix together milk, flour, butter, eggs and salt; mix until smooth. Strain through fine-mesh sieve; let stand for at least 30 minutes (batter should be the consistency of thick cream; thin with a little water if needed).

2

Heat 8-inch nonstick skillet set over medium heat; brush with some of the oil. Pour 3 tbsp batter into pan, swirling to coat bottom of pan. Cook for 60 to 90 seconds or until crepe begins to curl around edges. Flip over; cook for about 30 seconds or until set. Repeat with remaining batter, brushing pan with oil as needed. Transfer to parchment paper–lined baking sheet (you should have 12 crepes). Let cool completely.

3

Crepe Cake: Using electric mixer, beat together 2 oz cream cheese and peanut butter until smooth; set aside.

4

In separate bowl, beat remaining cream cheese, icing sugar and vanilla until smooth. In separate bowl, beat cream until stiff peaks form; beat into cream cheese and icing sugar mixture until light and fluffy. Set aside.

5

Place one crepe on serving plate. Spread with 1/4 cup whipped cream mixture. Top with another crepe; layer with 1 tbsp peanut butter mixture. Sprinkle with 4 tsp peanuts. Top with another crepe; drizzle with 4 tsp dulce de leche and sprinkle with 1/4 cup chopped SNICKERS. Repeat layers 4 times. Refrigerate for 20 to 30 minutes or until set.

6

Garnish with remaining whipped cream mixture, chopped SNICKERS and peanuts. Drizzle with remaining dulce de leche. Cut into 14 slices to serve.

Tip

Drizzle melted dark chocolate over top and sprinkle with a pinch of sea salt if desired.