RECIPE
SNICKERS BLOOD RED CRINKLE COOKIES.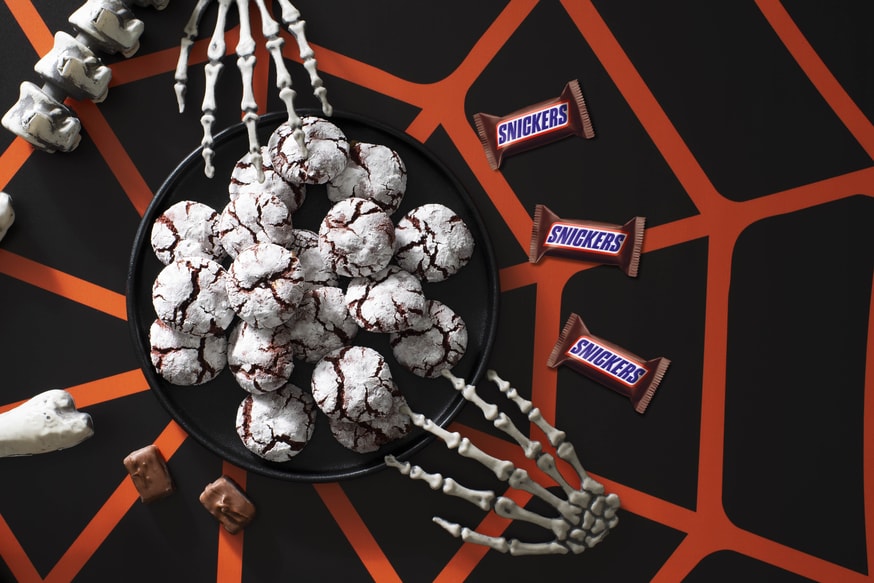 These festive Halloween cookies are bursting with lots of SNICKERS flavor.
INGREDIENTS
1/4 cup butter, softened
3/4 cup granulated sugar, divided
6 tbsp dark brown sugar
1 egg, at room temperature
2 tsp red food coloring
1 tsp vanilla extract
1 cup all-purpose flour
2 1/2 tbsp cocoa powder
2 1/2 tsp baking powder
Pinch salt
3 (1.8 oz) Halloween Fun Size SNICKERS, chopped
1/2 cup icing sugar
INSTRUCTIONS.
1

Preheat oven to 350°F. In bowl, beat butter, 1/4 cup granulated sugar and dark brown sugar until light and fluffy. Beat in egg; beat in food coloring and vanilla.

2

Whisk together flour, cocoa, baking powder and salt; stir into butter mixture until incorporated. Fold in chopped SNICKERS.

3

Divide batter into 20 portions; roll into balls. Roll each ball in remaining granulated sugar, then in icing sugar. Place on parchment paper lined–baking sheet, at least 2 inches apart.

4

Bake for 10 to 12 minutes or until puffed and cracked but still slightly gooey in center. Let cool completely on baking sheet.

Tip

Decorate cookies with candy eyes if desired.