RECIPE
SNICKERS MINI PEANUT BUTTER PIES.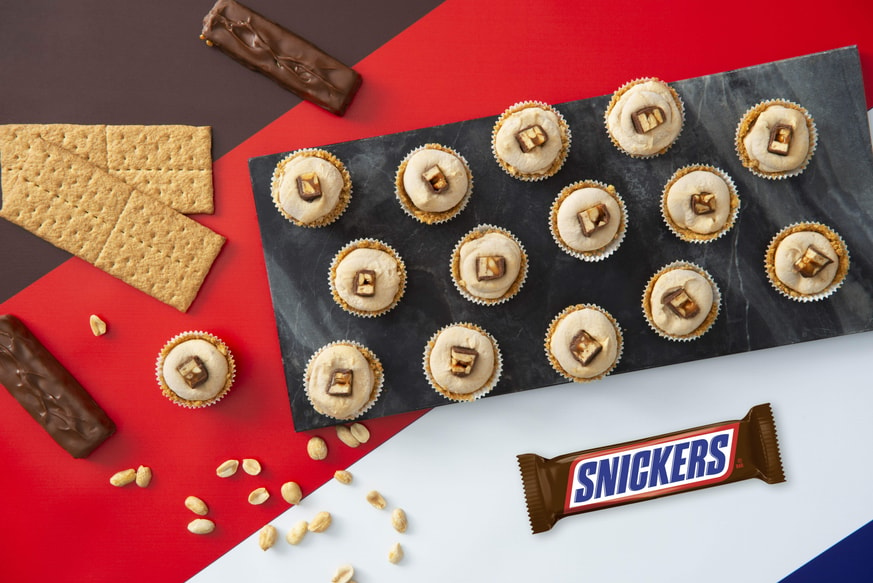 With rich peanut butter filling and a nutty graham crust, these SNICKERS mini pies are an explosion of sweet flavors that everyone will love.
INGREDIENTS
1 cup graham wafer crumbs
1/4 cup finely chopped peanuts, divided
2 tbsp brown sugar
1/4 cup melted butter
2 regular (1.86 oz each) SNICKERS Original, divided
6 oz brick-style plain cream cheese
3/4 cup smooth peanut butter
1/4 cup icing sugar
1 tsp vanilla extract
1/2 cup 35% heavy cream
2 tbsp caramel sauce
INSTRUCTIONS.
1

Line 16 mini muffin cups with paper liners. In bowl, stir together graham crumbs, 2 tbsp chopped peanuts and brown sugar until combined; add melted butter, tossing well. Divide evenly into cups, pressing down and up side of cups to form crusts. Freeze for 30 to 40 minutes or until firm.

2

Chop one SNICKERS bar and slice remaining bar into 16 pieces.

3

Using electric mixer, beat together cream cheese, peanut butter, icing sugar and vanilla until light, fluffy and smooth; set aside.

4

In separate bowl, whip cream until stiff peaks start to form; fold into cream cheese mixture. Stir in chopped SNICKERS.

5

Divide filling evenly among crusts. Top each with piece of SNICKERS. Refrigerate for 1 to 2 hours or until firm. Just before serving, drizzle with caramel sauce and sprinkle with remaining peanuts.

Tip

For a chocolate crust, substitute chocolate wafer crumbs for graham wafer crumbs.