RECIPE
SNICKERS® ICE CREAM PEANUT BUTTER PIES.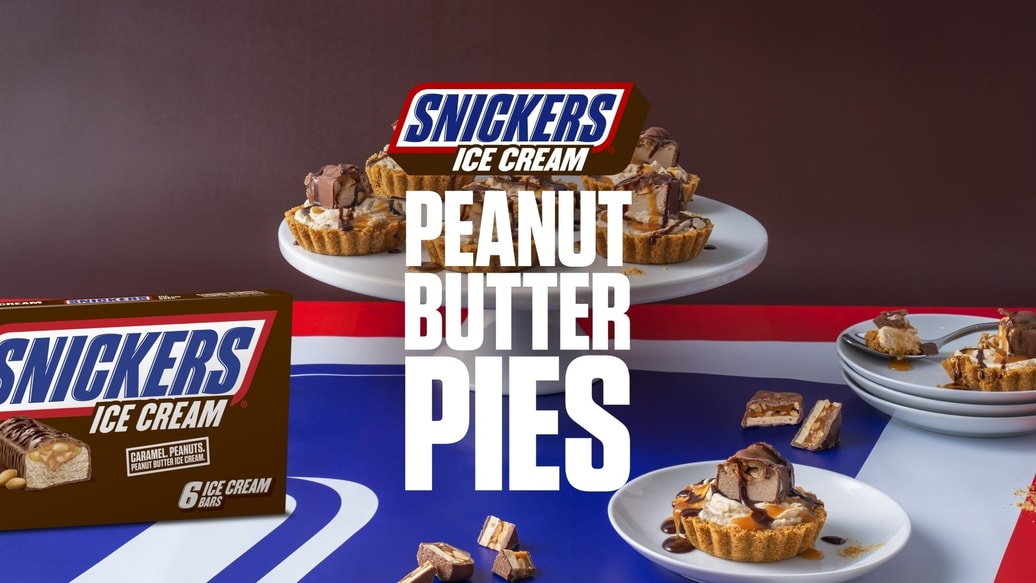 INGREDIENTS
1 cup graham cracker crumbs
1/4 cup unsalted butter, melted
6 oz cream cheese, softened
2 tbsp peanut butter, smooth
1/2 cup whipped topping
1 (1.86oz) SNICKERS® chocolate bar, coarsely chopped
2 (2.0oz) SNICKERS® Original Ice Cream Bars, each cut into 5 pieces
2 tbsp chocolate sauce
2 tbsp caramel sauce
PRODUCTS USED
SNICKERS Ice Cream Bar, 2.0 oz
SNICKERS Singles Size Chocolate Candy Bars, 1.86 oz
INSTRUCTIONS.
1

Combine graham cracker crumbs and melted butter; press evenly into bottom and up side of ten 3-inch tart shells. Freeze 10 minutes, or until set.

2

Using electric mixer, beat cream cheese with peanut butter.

3

Fold in whipped topping and chopped SNICKERS® chocolate bar into peanut butter mixture.

4

Spoon about 2 tbsp filling into each tart shell; garnish with a piece of SNICKERS® Original Ice Cream Bar.

5

Top each tart with a drizzle of chocolate sauce and caramel sauce. Freeze 20 minutes or until ready to serve.