RECIPE
SNICKERS ICE CREAM COFFEE FLOAT.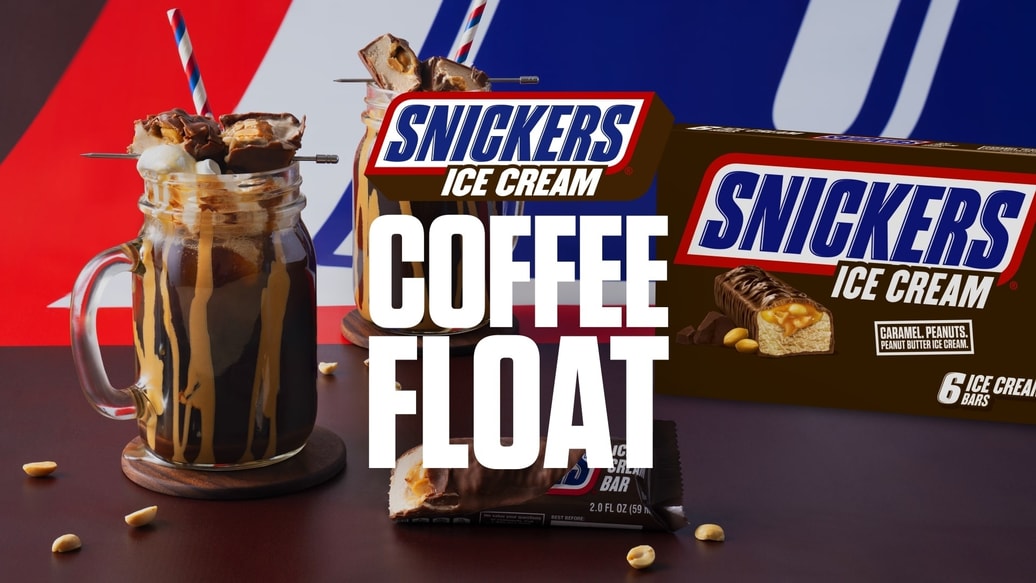 INGREDIENTS
2 tsp peanut butter, smooth
2 tsp chocolate sauce
2 (2.0 oz) SNICKERS Original Ice Cream Bar
1 1/2 cups coffee, chilled
1/4 cup seltzer water
2 tbsp whipped topping
2 tsp caramel sauce
INSTRUCTIONS.
1

In a microwave, heat peanut butter for about 30 seconds or until runny.

2

Drizzle peanut butter and chocolate sauce around the inside of each glass.

3

Take one SNICKERS ice cream bar and cut in half. Take the second SNICKERS ice cream bar and quarter, reserve in freezer.

4

Place one-half of SNICKERS Original Ice Cream Bar in each of the two 12-oz glasses.

5

Pour 3/4 cup of coffee and 2 Tbsp seltzer into each glass.

6

Take two quarters of the ice cream bar and place on skewers, repeat for a second skewer.

7

Spoon whipped topping over the beverages, place on skewer across each glass, and garnish with caramel sauce drizzle.

Tip

Keep it cool with a handful of crushed frozen coffee ice cubes.